"FOR the last few days, attention has understandably been directed at the shores of the Gulf Coast as oil has started to wash up on beaches and in marshes. But last week I had the chance to see the effects of the spill from another perspective — when I dived into the oil slick a few miles off the Pass a Loutre wetlands in southern Louisiana. What I witnessed was a surreal, sickening scene beyond anything I could have imagined.
As the boat entered the slick, I had to cover my nose to block the fumes..." (SUSAN D. SHAW NYTimes: May 28, 2010)
For many maritime workers the BP oil spill has had a devastating effect on their economic livelihood. Folks who make their living from fishing, as well as shrimpers, and oystermen, are unable to work due to the heavily polluted water. "The spill's putting our resource and our wonderful estuaries here in jeopardy." Says Ray Brandhurst of Chalmette, LA. Recently, Commerce Secretary Gary Locke following the lead of Louisiana Gov. Bobby Jindal, announced that the National Oceanic and Atmospheric Administration (NOAA) was restricting fishing in all Gulf of Mexico waters surrounding the growing oil slick. Consequently, all of the waters directly affected by the spill remain closed to commercial and recreational fishing, so no one can be sold potentially contaminated seafood.
Many of these displaced fishermen are now currently working at cleaning up that very massive oil spill and distributing booms through the surrounding marshes and waterways. However, the needed work is a double-edged sword. They are unable to continue with their normal jobs, but were lucky to be hired by BP for the clean up. The question now is "How lucky?"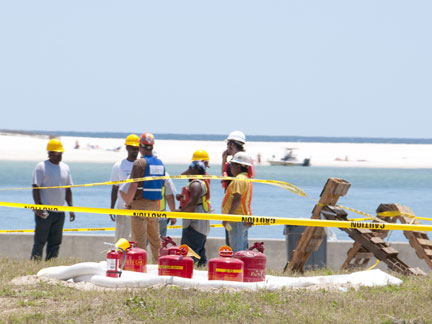 since the oil spill could now be taking a different toll on them, potential health problems whose effects could be long lasting. There are reports that BP failed to provide their newly hired workers with all the proper safety equipment; specifically respirators to protect themselves from breathing in toxic oil fumes. BP spokesman Graham McEwen told the LA Times that "he was unaware of any health complaints among cleanup workers." And "the fishermen the company( BP) is training are not being deployed into areas that require respirators or breathing apparatus." He added that "Those who are working for BP laying booms or skimming oil are issued protective coveralls and gloves. " Notice that there is no mention of breathing respirators.
There are few studies that have examined long-term health effects of oil exposure. Local physicians are beginning to see patients at emergency rooms complaining about respiratory problems, headaches and nausea. With eerily, similar complaints that were made by workers during the disastrous 1989 Valdez oil spill in Alaska, some of the workers cleaning up the contaminated Gulf Coast beaches, marshes,
and waters have complained about flu-like symptoms. Dr. Damon Dietrich of West Jefferson Medical Center in New Orleans Louisiana who has treated some of the Gulf Coast workers cleaning up oil from BP's blown-out well disagrees with the initial reports from BP saying the men were suffering from dehydration and lack of sleep or simply that they are not getting sick. Dr. Damon Dietrich is quoted as saying "One person comes in, it could be multiple things," he said. "Eleven people come in with these symptoms, it makes it incredibly suspicious."
Scientists say that for healthy individuals brief contact with small amounts of light crude oil and dispersants are not harmful. However, swallowing even little amounts of oil can cause upset stomach, vomiting, and diarrhea; a clear reason why beaches along the Gulf of Mexico are being closed as the drifting oil crude starts to contaminate them.
However, there are serious consequences to long-term exposure to dispersants, such as the kind BP is spraying in huge quantities from boats and planes. According to the Centers For Disease Control and Prevention Central, nervous system problems, and damage to blood, kidneys or livers are some of the more serious side effects from dispersants.
So now in addition to the normal dangers that maritime workers on crew boats, jack up barges, tow boats, jack up rigs, supply boats, tug boats, dredges, work boats face every day as they ply their trade, Louisiana seamen and other maritime workers face additional health hazards as a result of the BP oil spill, and the subsequent clean up process. More maritime workers involved with the clean up will be affected as the toxic oil spreads to the nearby coastal areas of Texas, Mississippi, and Florida. The oil itself contains harmful chemical compounds, some of which may be identified by particular odors.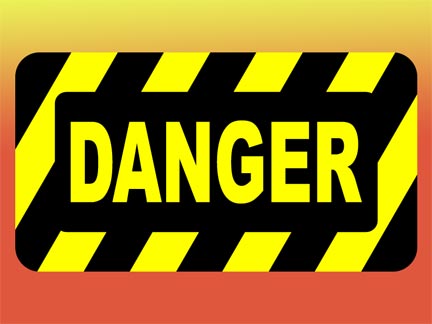 A "rotten egg" odor indicates the presence of hydrogen sulfide, which according to the EPA has been reported at levels that will cause irritation to humans. A "gas station" like odor indicates the presence of volatile organic compound such as benzene, toluene, ethylbenzene, and xylene. An "oily" odor or "tar-like" odor indicates semi-volatile compounds. Oil spills have occurred in the past with dire consequences and the toxic fumes that make people ill is one of the most common side effects of an oil spill.
More concerns about the health of clean up workers arise from the burning of the oil, which is a common clean up method. The burning results in particulate pollution of the air that can be irritating to the airways. And then there is the dispersant that BP has decided to use, Corexit, which is itself toxic.
The Louisiana Department of Health is receiving calls from residents about a "gas station" smell coming from the water with accompanying complaints of nausea, dizziness, trouble breathing, coughing, and nosebleeds. The Environmental Protection Agency is monitoring the air onshore. The Louisiana Environmental Action Network analyzed the findings which show chemical levels have far exceeded state standards for what is safe for human exposure. This is particularly worrisome with regard to volatile organic compounds where the levels go above the ambient air standards for the state. What has to be remembered is that these monitoring devices are set up onshore. The levels are even higher offshore in the vicinity of the oil slicks where seamen are working.
The possible effects from inhalation of oil vapors or aerosolized particles can cause respiratory difficulty, coughing, confusion, headaches, nausea, dizziness, difficulty breathing, vomiting, as well as eye and throat irritation. Higher doses can bring about chemical pneumonia , and long exposure time can bring about latent disease such as liver and kidney disease, lung damage nerve damage, and anemia. Contact with the skin may result in various skin problems ranging from skin irritation and rashes to folliculitis.
Seamen working on supply boats, tug boats, dredges, crew boats, jack up barges, or tow boats, in the states of Louisiana, Texas, Mississippi, and Florida that are being used in the oil spill cleanup are at a higher risk because of their proximity to the oil spill and the length of time they will be exposed to the carcinogens and other chemicals found in the crude oil.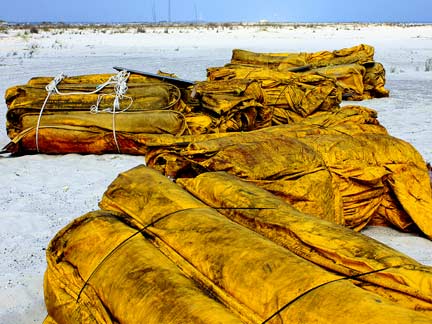 If workers do not have the proper safety equipment, which should include rubber gloves, rubber boots to protect them from making skin contact with the oil and especially respirators to prevent breathing in fumes, they could risk long-term health issues.
If you are an employee aboard any type of floating vessels in the Gulf of Mexico and have experienced some of the symptoms mentioned above, the protections from Jones Act may apply to you. The Jones Act reflects that reality of the high risks involved in maritime work, and a seaman's employer may be liable for even a small breach of duty, which contributes to a seaman's injury. The Jones Act applies to workers in maritime offshore industries such as fishing, fishery, canning, shrimping, oil field, dredging, barge, tugboat, towboat, crew boat, supply boat among others. Jones Act litigation seeks to recover damages for both past and future economic and non-economic losses. An experienced Jones Act attorney can assist a seaman with his injury claims, and maximize recovery. Seek the advice of a Maritime Admiralty Offshore Accident Lawyer to discuss your options. You can reach an experienced maritime accident attorney at: http://www.offshoreinjuries.com/CM/Custom/Contact.shtml.